So much is happening in my world at the moment, and it is all good. This week I had my first catwalk show in about ten years (!) as I start getting myself together to make some serious headway into the world of alternative and vintage modeling. There is much to be done on developing the portfolio and building the new website, but it is all very exciting. Yesterday's show saw me strutting my stuff with some of Melbourne's fiercest faces (and I mean that literally) at the
Bizarre Music Fes
tival
.
Working it for Dusk Moth Designs
In my quest for eternal youth, I've choosen not to drink raw eggs for breakfast and have regular colonics. Instead I have opted for Burlesque classes! Under the tutelage of the divine Rodney, whose physique hums with skill, passion and a generous dose of pizazz, I should get those glutes toned in no time. I generally spend my time at the gym on the treadmill or lifting weights, avoiding group classes at all costs. I hate aerobics or anything in which I am yelled at while turning purple. But this class is a whole new kind of fun. Dancing to everything from the Pussycat Dolls to the Chicago soundtrack, while bumping and grinding with a Nana or two; this excercise is the most fun I've had in ages! (
Cybill
and others looking for the solution to their fitness problems look no further.)
I have finally began the big wardrobe purge and have the first batch of listings up on
my Eb
ay
. I'll be listing a mix of new items, (that I stupidly never bothered to try on) and some of my favorite vintage pieces that I bought for love, but just don't fit. So if you think you can give some of these a good home, head on over and check these out.
Late 1960's Candy Pink dress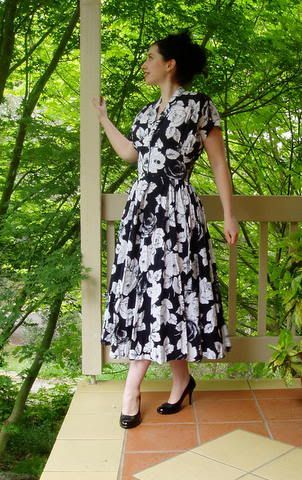 1980's does the 1940's tea dress
Modern blouse - 1940's vintage styling
So it has been a big week and there is much work to do and fun to be had. I am chomping at the bit to get these new sites finished as I have so many great new things to share. If any of my delightful readers are able to volunteer their stellar web design skills, my team of 1000 monkeys will be eternally grateful.