Images from Sanriotown
I have a confession to make. While I was in Japan I discovered the local obsession with Nail Art, and I am smitten. Usually I have a very strong aversion to anything that purports to be nail art, as it conjurers up images of some rappers girlfriend waving lethal talons around slapping me down for my lack of pizazz. But the Japanese version of nail art was all together different. While many of the techniques and supplies remain the same the outcome is something sparkly, cute and innocent.

Usually my nails are simply clear coated, as although I love a red nail, the manicure just doesn't stand up to my lifestyle. But Japanese style nails just might. The trend is to cut off your own nails and replace them with glass like press ons. Rather than working with a French Manicure or a coloured base, one of the most popular styles works with this clear base and uses sparing adornment to create a sort of Cinderella look. The 3D nail art I found was just delightful. I know that there are lots of cons to this sort of work, but I think it is just so pretty!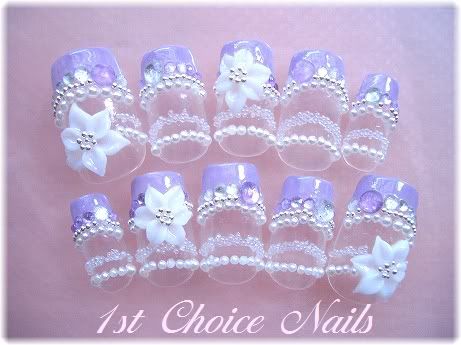 So am I just having a moment of bad judgment, or do you see the kitschy cute value I do? Either way, I'm off to paint my nails with glitter and stars.
Further reading on the subject if it takes your fancy.
She Finds
asks - Trendy or Tacky?
Buzzfeed
gives you more pictures videos and links