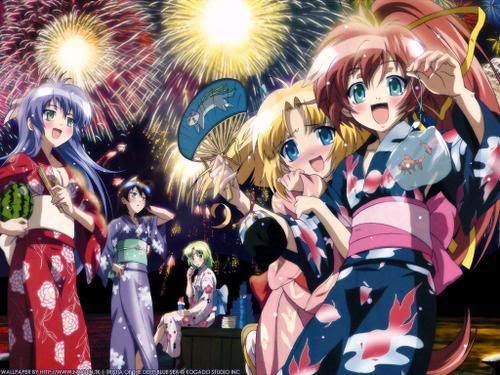 I got a bit of a surprise when I looked at my blogger account this morning, yesterday was my 200th post! And I could not possibly let such an occasion pass without some kind of celebration. So of course there must be thank you presents for my readers. All you have to do is leave me a comment over the next four days and I'll be drawing a winner to receive a special Super Kawaii gift pack, including a customised SKM original piece, (like those seen in
my etsy shop
) made to your specifications!
**********************************

When it came to wearing the cute blue dress I had made for my birthday, I had one tiny problem. Being that it was a wrap dress with a separate front and back section, it ended up being quite revealing if I took more than a small ladylike step. So stairs were out of the question, and I wasn't quite sure how I was going to remedy the situation until my Mother in her infinite wisdom, suggested a fashion solution that has long been off my radar. The Slip. The full length petticoat that was a staple of every woman's wardrobe not all that long ago, but has since faded into fashion oblivion. I think that I may have been on the tail end of this underwear essentials lifespan growing up, as I have vivid memories of wearing them to primary school, but I'm not sure when they disappeared.
But buying one was an entirely different matter. While they seemed to be commonly stocked in departments stores, finding one smaller than a size 20 was just not going to happen. Uh oh. Charity shops to the rescue. I found several lovely little numbers to fit the bill, but in typical fashion I spent most of my time searching out other treasures too. I had such a serendipitous day, and kept stumbling upon treasure after treasure. So for under $70 I brought home a haul of biblical proportions, a selection of which I have prepared for your viewing pleasure. And for good measure I've included a few other little gems that appeared as birthday treats. I am in heaven this week.
1. Kawaii treats - gifted from my brother. 2. Flocked Organza fabric - Thrifted. 3. Vintage baby doll nightgowns - Thrifted. 4. Pure silk Liberty scarf - Thrifted.
1. The perfect Birthday card - gifted. 2. Pink silk slip - Thrifted. 3. Pleated satin evening bag - Thrifted. 4. Patent leather bow shoes - Thrifted.
1. Strawberry table cloth - Thrifted. 2. A very appropriate vintage styled sign - gifted from my Mother. 3. Cowboys cotton bandanna - Thrifted. 4. Vintage hand made table cloth - Thrifted.


** Thank you to
Hammie
for coining the new term "Thriftage" which I am finding a very handy descriptor these days. **